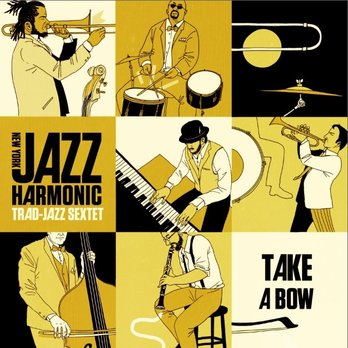 1. This arrangement of "Castle House Rag and One Step" pushes closer to swing. It is based on a very early recording of a band, much like the ones Europe used to accompany the Castles. Also, that recording had one of the first existing drum solos in recorded music history. Here we improvise it up a bit.

2. "Frog-I-More" is wonderful early Jelly Roll Morton Tune, sometimes called Froggymore.

3. The "Bethena Waltz" is one of Joplin's most beautiful pieces. Here we have a slightly truncated version. This tune lends itself to virtually any kind of ensemble.

4. Here we present J.R. Europe's "Castle Walk," as a straight time composition, much as it would have been played in his time. You can hear the beginnings of how he was searching for more "swing."

5. "Wah Wah Stop Wah," refers to the muting of the brass on the main lick. When the mute is in it creates a "Wah" crying sound. For the third note of the four note lick, the mute is out. Which stops is the crying. But, like a baby, they get right back to it.

6. "The Crave" is such a sultry tune. This brand new arrangement is based on a solo piano recording that Morton did for posterity later in life. He could still caress the keyboard better than just about anyone.

7. "Carolina Shout" is a tune by another of the early piano masters who came after Joplin. James P. Johnson went on to influence many of the more modern players such as Duke Ellington.

8. "Solace" is another extremely beautiful Joplin piece that isn't really a rag. It definitely has latin influences, perhaps it could even be called a Tango. How Joplin heard about Tango in 1909 is the subject for his biographers.

9. "Clarinet Marmalade" was by a group called the Original Dixieland Jazz Band. Of course, they weren't, but they did have the first recording of music that could actually be considered by today's standards, jazz, with their version of "Tiger Rag." This one features our ace clarinetist, Jay Rattman.

10. "Mr. Jelly Lord" was recorded by Morton many times. He named several of his pieces after himself. This was actually has lyrics, that he kind of used to sing about himself. Did we mention that he was never at a loss in the ego department?

11. "Easy Winners," is one of Joplin's happiest pieces. Composed in 1901, it is a melody recognized by many.

12. "The Castle, a Doggy Fox Trot" is presented here in more of a modern, full swing arrangement, with improvisatory sections.

13. The "Pine Apple Rag" is another of Joplin's popular rollicking rags in 2/4 time, and are most of them. Here we debut a new arrangement.

14. Leader Ron Wasserman is primarily known as a classical bassist, and does a lot of bowing at the waist, and bowing of the strings. Yes, it's a play on words, and we've been waiting a long time to have one to title an album with. "Take a Bow" actually follows the form of the old jazz tunes, in that there is more than one main strain. When the first strain comes back, it turns into a waltz for variety. That's definitely not old style.

15. "Eccentric Rag" by Russell Robinson, is not a rag, but a fox trot and swings like good early jazz should.

16. "Act One Rag" is from a ballet in progress by leader Ron Wasserman. It is in the style of Joplin, and is, predictably, within the first act of the ballet.

17. "The Chevy Chase" is one of Eubie Blake's best early tunes. It has a wonderfully infectious melody that we love.

18. "Wall Street Rag," written by Joplin in 1909, echoes to this day. It has a libretto that starts with: "Wall Street in a panic. Brokers feeling melancholy." The more things change, the more they stay the same.